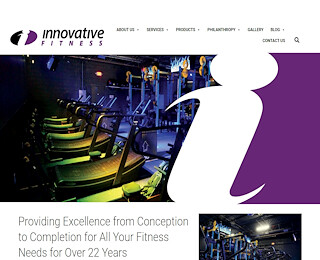 Find high-quality Atlanta commercial fitness equipment at Innovative Fitness. We are the nation's top fitness supplies experts, and we can provide your gym with a wide range of new and used equipment. You can turn to us for installation, financing, facility design, and consulting, too. Visit our website to find out more.  

Whether you are building a personal home gym or a commercial establishment, you want high-grade fitness equipment to make sure that your investment will last long even after years of use. One of the major differences between home and commercial gym equipment is durability and endurance. Atlanta commercial fitness equipment are built for more rugged use than home units as they go through heavy and more frequent use by different gym members, who use different intensities of work outs throughout the day. Therefore, you shouldn't settle for home gym equipment when trying to build a commercial fitness center or a gym that you intend to open for public use.
 Innovative Fitness has all the equipment and accessories you need to create a functional and highly efficient gym and fitness setting. The company is dedicated to providing quality gym equipment and fitness solutions to all who need advanced fitness equipment, athletic flooring, and general facility design. Innovative Fitness has a wide range of Atlanta commercial fitness equipment options and solutions to meet each client's needs.
Some of the most basic fitness equipment and units you may consider for your personal or commercial gym or fitness center include free weights, barbells and weight plates, dumbbells, kettlebells, weight benches, cables, lat pulls, treadmills, and other types of exercise machines, designed to help enhance workout routines.
Atlanta Commercial Fitness Equipment
Innovative Fitness
770-218-9390
1000 Cobb International Dr., Suite A1
View Larger Map
Related Posts
Take a look at the options in Atlanta sports fitness flooring at Innovative Fitness. We can provide high-quality flooring that is specially designed for sports and fitness facilities. If you plan on opening a gym, we have everything you need. Our aim is to exceed your highest expectations in service, quality, and selection of products. Go to our website and contact us today.
Are you looking for high-quality and budget-friendly new and used fitness equipment and machines? Visit Innovative Fitness for used fitness equipment sales Atlanta with topnotch service and financing. Our team of experts can help you make the most of your budget. We can handle installation and provide support. Go to our website now.
We welcome your comments!